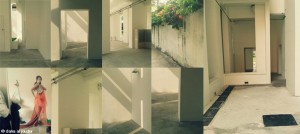 In the frame of the OMNIBUS ongoing research on Asian urban development, Charlotte Malterre-Barthes collaborated on a short film by architect and performance artist Dana Al Jouder, shot in the Tiong Bahru Estate HDB social housing block in Singapore. Drawing on the contrast between the sterile, monochromatic ground floors generated by the architecture of  mass housing that characterize the  public dwellings on the one hand, and on the other hand on the composite, colorful and rag-like outfit of the protagonist, the movie meditates on the impersonality of those spaces, the erasure of culture brought about by change, and the impact it might have on human psyche.
Text by Dana Al Jouder:
" Located next to the Tiong Bahru low rise residential area, this forty-floor public housing development is one of many mass-housing estate built for Singaporeans in the past 50 years. The HDB is haunted by its legacy- its practical methodology and functional monotony, often neglectful of the vibrant cultures that inhabit it. The austerity of the ground floor contains several corridors and intersections, creating poetic enfilades, as if purposely designed to be haunted."
Al Jouder is a Kuwaiti performance artist who studied architecture and design in New York, Rome and Copenhagen. She enjoys working with her voice and body to explore dimensional esthetics to sound. She also tries to illuminate social ironies and contradictions in compositions. Al Jouder graduated from the Pratt Institute in Brooklyn, NY with a BA in Architecture in 2009. She received the SILS Twinning Fellowship Scholarships allowing her to conduct research in Florence on the allegory of the Medici family through Renaissance poetry, painting and sculpture.
Enfilade is inscribed in an ongoing work. The previous film, tiles, was shot in a housing block in Kuwait City.